Notes of an Autodidact. On Els Dietvorst's work
DREAM
I meet Els Dietvorst in a dream that very much resembles reality, but more pleasant. We sup tomato soup in a spacious Antwerp restaurant. We are the only diners and are served by a young artist who we both taught. Dietvorst remembers that she is called Anna. I have no recollection, except that the name Anna always moves me. No distracting sounds. The wooden table feels real. I listen.
Almost twenty years have passed since our last meeting. I had forgotten Dietvorst's Antwerp accent, but not her unique, generous presence. Something connects us, but for that reason doesn't want to be named. Perhaps it has something to do with Anna, who serves us appreciatively, moving noiselessly as she brings cutlery, sparkling water and coffee, like a biblical figure.
After all those years, we have been brought back together by Bart De Baere, who asked me to identify a thread running through Dietvorst's apparently scattered oeuvre. A tattoo on Dietvorst's hand features a swallow in flight. Swallows are migratory birds. Dietvorst likes birds. She is drawn to lost travellers, exiles, displaced persons, people on the margins, black sheep, incapacitated winged friends.
She tells me that she finds it strange to sell work and that almost all her work has gone missing, been given away or destroyed. She tells me that she herself doesn't film or sculpt, but surrounds herself with people who do that for her or together with her. What appeals to her most, in all her adventures, is doing things together: eating and drinking, making something beautiful, forging the present. Those who have truly lived today, have no need of objects to fill a nostalgic void tomorrow.
Fortunately, there are still the films. And the stage plays. And in fact a number of objects: drawings, sculptures, stuffed animals, found objects, a few books. Together they set the tone, they conjure up a world view, a vision, a mood, militancy, perseverance, simplicity.
EXHIBITIONS
I visit two of the artist's recent solo exhibitions and feel welcomed, embraced, included. The presentations are open, generous, poetic, direct, intense, human. I am touched by the simplicity of the life-size representation of a sheep carved out of wood which, at first glance, put me in mind of the Mystic Lamb, as depicted by the brothers Van Eyck. I am fond of the images she makes of landscapes, trees, grass and animals. I am fond of the presence of the wind, of people who are allowed to feature with their own story, their own perplexities and their own simplicity.
SOCIAL
I think of 7,000 oak trees and the shrinking pile of monumental rocks. I think of the bewildering moment when an older lady walked up the stairs to tell Joseph Beuys through the closed bedroom door that he had a talent he should not keep from the world. Beuys had been hiding in that bedroom for a year and probably wanted to hang himself. I think of Beuys' sudden realization that he shouldn't make 'art', but that he should relate to the world as an artist. Consult Wikipedia today to find out what Beuys meant by a 'social sculpture' and you will see that he is still not understood. Once again the intellectuals on duty divide the world into a political, a social, an artistic and a scientific domain, without grasping that while this caricatural, discursive distinction may make thinking possible, it does not refer to existing dividing lines in reality and loses its effectiveness as soon as someone takes action. Dietvorst has not only understood this, her life and work testify to it and embody it.

AUTODIDACT'S TALK AND NAIVETY

In 1970 someone whose name we have rightly forgotten wrote that Gerard Reve, the greatest writer the Dutch-speaking community has ever produced, "doesn't know what to do with the language when it comes to his deepest feelings and emotions (…) because he was unable to take part in the modern thought experiment for lack of training and didn't wish to take part because of the obstinacy of a self-isolating autodidact." It's inconceivable how hurtful some people can be, even if they themselves are too backward to fathom out why a kilo of feathers weighs more than a kilo of lead.
"The truth," as Reve tells us in his 'autodidacts' talk', "is intolerable for our vanity, because it threatens the illusion of an objective and independent ego." Today the modern thought experiment of contemporary Western art is part of the global culture of interior design. All sense of light, space, proportion, scale and true monumentality seems to have deserted us. The world is getting uglier by the day, dominated by a generalised neurotic interior design, pulled over public life like an inside-out sock.
All egos are inflated in the modern thought experiment of contemporary Western art. Everyone knows better. Everyone has been to school. Everyone is part of an international network. Everyone has a Ph D. Nobody is self-taught any more.
We know that autodidacts love animals, objects, books and people. Something prevents them from spending their whole life in emptiness and insensibility hidden from view by rules, classifications and interior architecture.
FORM
According to Bart De Baere, with De Zwaluwen (The Swallows) Dietvorst "may have created the most extraordinary socially artistic project this country has ever seen". "Personally I never use the word 'social'," Dietvorst tells me. But De Baere is right. I remember being impressed by the magnificent 'sets' of De Zwaluwen when they were shown at CC Strombeek. Dietvorst knows what Form is. So she can tackle anything, including 'the social'. Everything is permeated with a feeling search, with feeling, feel. And more. Because what is Form?
Form, attitude to life and style are determined by (and determine) the way a person wishes to relate to the world. That form can be open or closed, narrow or wide, empathic or neurotic, conscious or unconscious. Most people dream of immortality. Everything they do is designed to facilitate a life that is supposed to take place in the future. They don't live today. It is as if they don't have a body, and yet occupy more space than necessary. Others try to live in the present and achieve sustained attention and a practising relationship with things. They are present in a different way, they leave a different sort of footprint.
The Christian God actually tears his way into the material world to show us how we can deal with our mortality. That is Form. In the iconography, He is represented as a Lamb, as a Dove or as a Golden Pillar. That is also Form.
In Dietvorst's film The Rabbit and the Teasel, the father, who is also the son, looks after a sick cow. He sits next to her in the straw and strokes her head.
ANIMALS AND NAIVETY

When I look at Dietvorst's work, her drawings, sculptures, films and installations, I can feel how she looks at wood, trees, people, space and light, as if she really does dare to see, touch and experience things. And this probably means that she also dares to recognize the underlying mortality, the fragile, the transitory.
I don't understand anything about the so-called doctrine of sin, which seems to me to be founded on errors in translation. The only original or ancestral sin consists in having a body. And actually that means that the people who concocted the Old Tales, were looking to find relief for their fragility and finitude in those stories or, if they were slightly more courageous, looking for a way of giving meaning to life despite its finiteness. Rather than a sacrificial lamb, I see a gentle and defenceless animal, gentle and defenceless as a dove, defenceless and helpless as a human being, as a tree, as the earth.
Twenty years ago, on a military site where barking dogs lived in cages, I saw Dietvorst's large loam skull. It struck me as being a magnificent, moving sculpture, even if we were living at a time of modern thought experiments, when artists were no longer supposed to get their hands dirty. Today they are allowed to sculpt and model again and Dietvorst is recognized as a brave trailblazer. Nowadays we can also express out loud our concerns about climate change and other social injustices without immediately being locked up by an interior architect, school teacher, curator or other police officer.
In her brilliant book On Photography, Susan Sontag remarks that an innovative artist always comes across as naïve to contemporaries, who think they know exactly what ought to happen. But after that the tables turn, and the contemporaries appear to be naïve, because they haven't noticed the real possibilities of their time.
After seeing the skull, I invited Dietvorst to take part in a group exhibition, which besides free people like Panamarenko, Bernd Lohaus, Luc Deleu and Walter Swennen, also included minimalist artists like Ann Veronica Janssens and Joëlle Tuerlinckx and form-conscious, politically-engaged artists like Ronald Ophuis. (I would rather be naïve than have to live as a downtrodden creature.)
Dietvorst tells me that the skull's support was part of a tree she had known. And she tells me that its teeth still exist as solitary sculptures. When a friend of hers, who owned one of the teeth, learned recently that it could fetch enough money to have work done on her son's teeth, Dietvorst suggested she come and sell the sculpture at the M HKA. Behold this true Form Thinking, worthy of Ovid's Metamorphoses, starting from the fragility of all things, which also makes movement possible and change, so life, and even things which later on others call art.
After a first reading of these notes, Dietvorst asked me if I could write a little more about 'transformations, the poems of Rimbaud in thoughts'. I fail to see the connection with Rimbaud. But I was given Ovid's Metamorphoses as a present by Berlinde De Bruyckere, so I have a sense that this sculptor's work – as a continuous series of transformations – expresses in an irreducible, initially unconscious way a fundamental, authentically religious connection with all things, in which love and death are reconciled, not in a masochistic, inhospitable glorification of suffering, but in a triumphant creation of new images which make a courageous response to pain possible. What people call 'the social' is an emaciated version of this deep connection, a version that has been stripped of all spirituality.
END OF THE DREAM

The dream ends in silence. A pregnant, pleasant silence. We look at each other without speaking. Everything has been said. We can get back to work. Anna smiles. Outside clouds separate and the light streams down on a parasol-shaped oak tree. We get up and leave.
Montagne de Miel,
November 3, 2019
Translated by Alison Mouthaan
Dedicated to Kris Vanhemelrijck

Image: Els Dietvorst and Herman Teirlinck, Small Stuff New York, Nicole Klagsbrun Gallery, 1999, curator: Hans They. Photo: Bedrich Eisenhoet.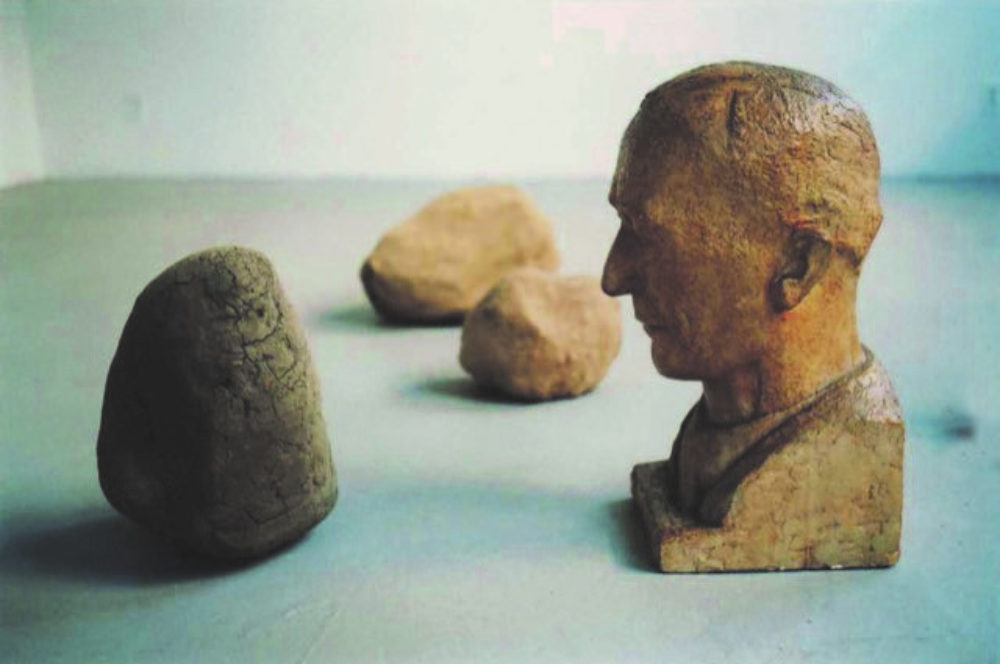 © Bedrich Eisenhoet